A 3D online application for visitors of the Gallery Weekend Berlin 2012.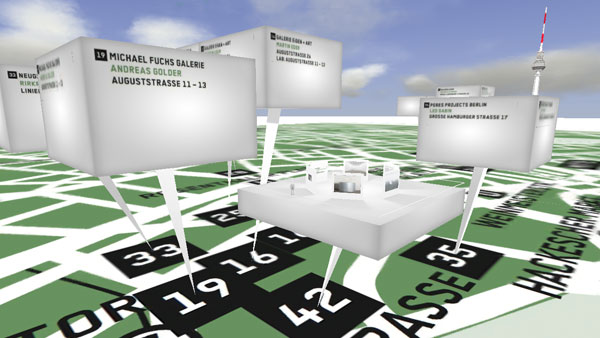 ENER team acted as scientific partner on the Virtual Gallery Weekend Berlin beta project. His role was to conduct scientific study to:
– Assess the maturity of the technology and the accessibility of applications.
– Assess maturity of public facing this new form of experience.
– To evaluate-the relevance of this new form of mediation Compared to traditional Web.
The result of this research has been published in: « Virtual Gallery Weekend Berlin: An online shared spaces experimentation dedicated to Contemporary Art »François Garnier, Lucile Haute, in iED Summits proceedings (Immersive Education Initiative 2012)
---
How to reconcile the informative power of the Internet with the social dimension and localized of an art event?
From April 26th 2012 to 30th was opened the Virtual Gallery Weekend Berlin beta.
Virtual Gallery Weekend Berlin beta does not aim merely to be a visualization of an art event, but to facilitate a shared experience, to explore possible artistic interactions in a virtual 3D environment, and to exchange ideas and information about art. We are also explore to see how the physical and virtual worlds of the Gallery Weekend crossover and develop throughout the event.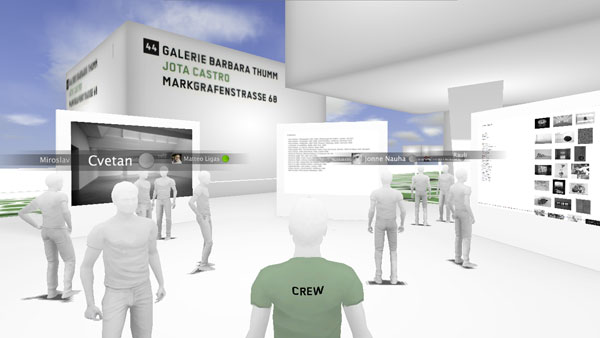 Each gallery is marked at its real-life location on a map of Berlin. Having entered this virtual world as an avatar, visitors will be able to:
• locate the 50th galleries you wish to visit
• visit the virtual show room of each gallery and view the art works
• share information and your impressions with friends and other visitors
• contact the gallery owner to state your interest in buying specific pieces
• participate in an event even when you are unable to attend in person
The team is a partnership between the board of "Gallery Weekend Berlin 2012" and group of member firms of the open source project realXtend :
-Spinningwire (concept, production, design)
-BLIQ, Picto (modelling)
-Adminotech (software development full experience)
– Playsign (software development light experience)
– EnsadLab/EN-ER Team :
François GARNIER (Head of research – EnsadLab/EN-ER, Project Designer – Spinningwire)
Lucile HAUTE ( Phd Candidate – EnsadLab/EN-ER, CIEREC)