Deux membres de l'équipe du programme EN-ER/EnsabLab ont été sélectionnés pour présenter leurs recherches dans le cadre de : IMMERSIVE EDUCATION INITIATIVE BOSTON SUMMIT ( du 13 au 15 mai 2011 au Boston College.
L'IED Summit est le symposium de l'Immersive Education Initiative, un collectif international d'universités, d'instituts de recherches, de consortiums et de compagnies travaillant ensemble pour définir et développer des standards open source, des usages, des plateformes et des communautés en réalité virtuelle, serious game et E-learning.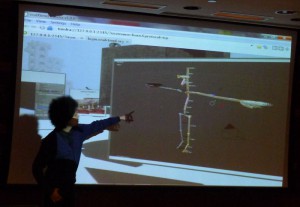 L'objet de ce déplacement était la présentation de trois articles publiés par François Garnier (Professeur responsable de recherche EN-ER) et Boris Ramonguilhem (Étudiant chercheur EN-ER) ainsi que la participation au lancement du chapitre européen de l'IED.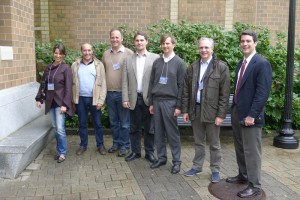 IED EUROPE BOARD OF GOVERNOR :
Béatrice Hasler, Research Fellow, Interdisciplinary Center Herzliya, Sammy Ofer School of Communications, Advanced Virtuality Lab, ISRAEL
François Garnier, Head of Research program ENER, EnsadLad, École Nationale Supérieure des Arts Décoratifs, FRANCE
Michael Gardner, Director of the Digital Lifestyles Centre, School of Computer Science & Electronic Engineering, The University of Essex, UK
Pasi Mattila, Project Manager, City of Oulu, School of the Future -Program, CIE – Center for Internet Excellence, University of Oulu, FINLAND
Christian Guetl, Assistant Professor and Key Researcher, Institute for Information Systems and Computer Media, Graz University of Technology, AUSTRIA
Carlos Delgado Kloos, Full Professor, Computer and Information Science Technology-Enhanced Learning, Universidad Carlos III de Madrid Leganés, SPAIN
Aaron E. Walsh, Immersive Education Initiative Founding Director
Absents sur la photo:
Daniel Livingstone, Lecturer, School of Computing, University of Paisley, SCOTLAND UK
Bernard Horan, Senior Researcher, School of Computer Science & Electronic Engineering, The University of Essex, UK
CONFERENCES, ARTICLES:
SATURDAY MAY 14 2011, 04:00-04:30 PM
SPACE MEDIUM : EXPLORING THE SHAPE OF A NEW AESTHETIC MEDIUM
FRANCOIS GARNIER ECOLE NATIONALE DES ARTS DÉCORATIFS DE PARIS, France
Abstract: Massive interaction and stereoscopy in virtual worlds open, for first time, the possibility to feel intuitively the three dimensions of digital spaces. By offering this shared perception of space, virtual worlds have become one of the first manifestations of the emergence of a new artistic medium, a space medium. Get a new artistic dimension is a rare event in art history. The last was the appearance of time in the image. Moving picture film and television have radically transformed our understanding of the world in 20 th century. This new medium disrupts our spatial relationship to the world and updates fundamental philosophical issues (reality, identity, places). We need to understand the features, the new uses and the aesthetic impact of this new médium. Since 2007, the research program ENER de l Ecole Nationale des arts décoratifs de Paris, aims to explore the new artistic fields open by this space medium, and to facilitate the use of these new territories in the areas of research and learning in the arts. This article will present the results of our research on implementation and evaluation of platforms for experimentation and learning, (Seconde Live, Open Sim, Unity, RealXtend) bringing together a community of interdisciplinary researchers and students from various arts sectors. It relies on a critical analysis of artistic experiments carried out on its platforms. (Lost Eden, Holocéne, Deuil, Artur Kron, Delta Lyrae 6, Disorder Screen Control, fenêtre sur chambre, Filling up the internet )
SUNDAY MAY 15 2011, 11:00-11:30 AM
STANDARD AVATAR SPECIFICATION FOR CONTENT CREATION IN REALXTEND
BORIS RAMONGUILHEM ECOLE NATIONALE DES ARTS DÉCORATIFS DE PARIS, France
Abstract: In partnership with the development team under Open Source realXtend, the research program ENER de l Ecole Nationale des arts décoratifs de Paris, was instructed to study and specify the format of future standard avatar realXtend. The purpose of this research conducted by Boris Ramonguilhem (student researcher) under the leadership of François Garnier (Head of Research) was to specify bone structure of the skeleton of future avatar realXtend to provide maximum compatibility with the different existing open source tool. existant ( Open source file format, avatar mesh générator, motion capture tools, 3D content creation suite). This article present the results of this research: – The annotated description of the format of the new standard avatars realXtend (bone, meshes, textures, animation set). – The description of the workflow to produce avatars realXtend – shape : Makehumand -> blender -> realxtand – Animation set : motion capture -> blender -> realXtand – Future developments of this research to automate workflow between its various production tools. – The presentation of two applications of this research in content creation: The production of the 4 standard avatars for Naaly, and creation of humanoid and animal avatars for the project « Virtual Watershed in realXtend
SUNDAY MAY 15 2011, 11:30-12:00 PM
DYNAMIC CONTEXTUAL STEREO VIEWER FOR VIRTUAL WORLDS
FRANCOIS GARNIER ECOLE NATIONALE DES ARTS DÉCORATIFS DE PARIS, France
Abstract: With motion perception, binocular vision is one of the main factors for perceive sensory space. It allows us to evaluate the space that surrounds us and mentally predefine our future actions. In virtual worlds, the combination of stereoscopy and spatial interaction, enhances the immersive experience. However, this multi-sensory perception is only beneficial if stereoscopic the setting is optimal. The development of stereoscopy in the movies helped to stabilize the laws of setting and framing in stereoscopy, our goal is to use this experience to improve the quality of the stereopic viewer in virtual worlds. This paper presents the specifications of a dynamic stereoscopic visualization tool suited to virtual worlds. Its principle is based on an analysis of the geometrical data of the scene, but also on the analysis of contextual, perceptual and cognitive factors. This viewer is intended to provide an optimal and comfortable stereoscopic vision by analyzing the point of view of the user, the context of visualization, his focus, and the geometric nature of the objects in the digital space.